Sep 19, 2023, 7:00pm ET
Isaiah Stewart
Always live, always authentic
RSVP to access prize draw
Every NBA team hopes to have THE MAN IN THE MIDDLE who can exemplify mental/physical toughness and help shape their team's identity. He's the alpha-male who's a fan favorite for bruising physicality, making sure his team doesn't get pushed around, and his willingness to do whatever it takes to man the paint.
There is no doubt that Isaiah Stewart is THE MAN IN THE MIDDLE for the Detroit Pistons.
In this episode, we'll unpack how Isaiah has evolved from his youthful playing days into the tough and ferocious competitor that the Detroit fans love so much. We'll dive into his road to success and his love/passion for basketball. It's important to tell these stories and provide fans with insight of the true character of today's big men.
View full details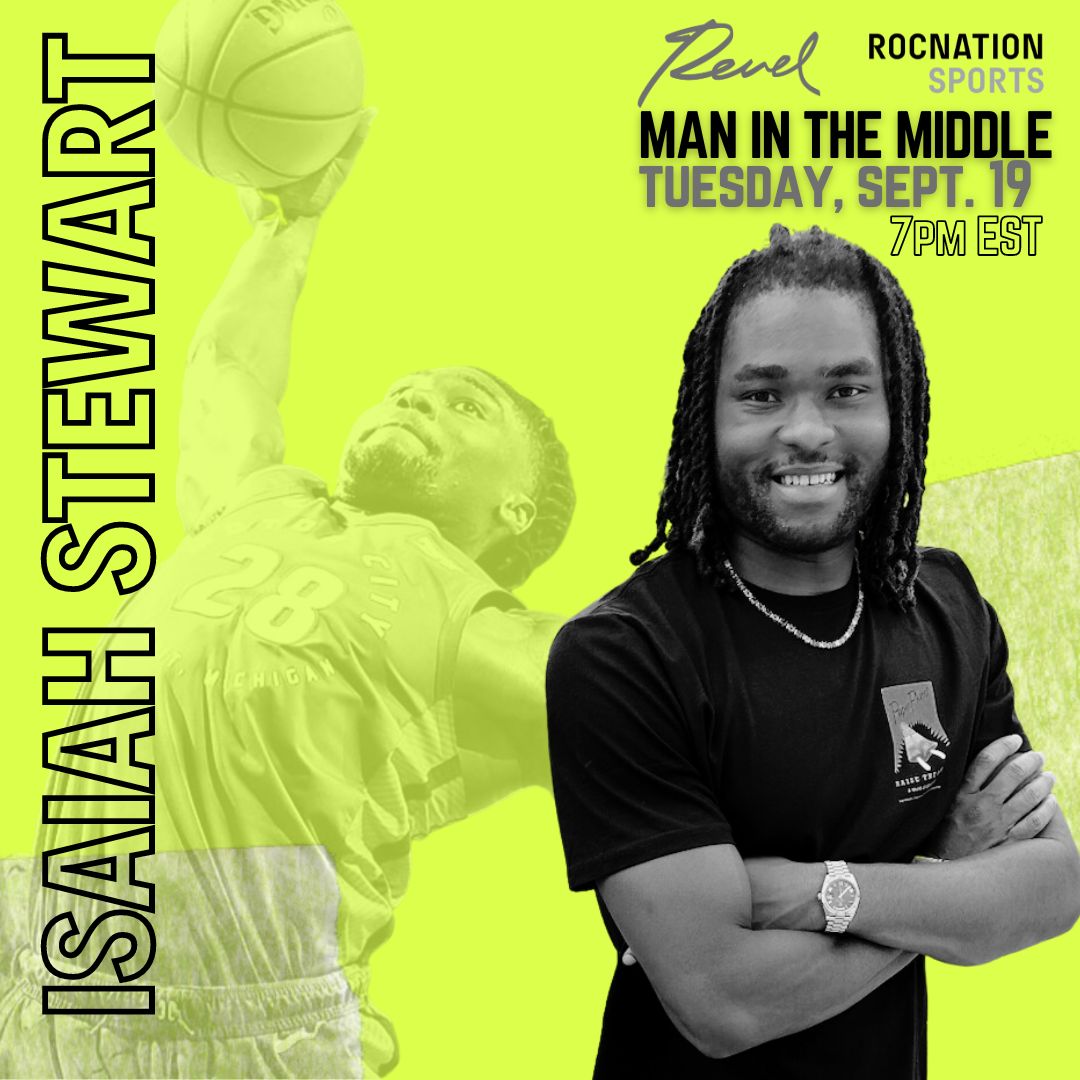 Get to Know Your Host
Isaiah Stewart was born in Rochester, New York. He grew up with his father, Dela Stewart, who introduced him to sports at an early age. Isaiah first started with soccer and boxing but began playing basketball in the 5th grade. Isaiah's love for basketball quickly grew, as he said, "Once I found that competitive edge, once I saw how fun it was to get better at basketball, once I saw how fun it was to compete. I just continued to stay with it." By middle school, Isaiah was recognized for his basketball talent and was highly sought after by AAU teams.

In high school, Isaiah attended McQuaid Jesuit High School, playing for the team during his freshman and sophomore year before transferring to La Lumiere School. Isaiah earned many accolades during his high school career, including McDonald's All-American honors, Mr. Basketball USA, the 2019 Jersey Mike's Naismith High School Player of the Year. As a five-star recruit and a top five player for the 2019 recruiting class, Isaiah committed to the Washington Huskies. In just his freshman year, Isaiah made both the All-Pac-12 first team and the Freshman Team.

In 2020, Isaiah declared for the NBA draft and was the 16th overall pick. While initially drafted by the Portland Trail Blazers, Isaiah was eventually traded to the Detroit Pistons, where he currently plays today. When reflecting on his son's journey to the NBA, Dela says, "In every way I am proud. One hundred percent. In every way. I love him because he is my son, and he makes me proud."
Getting Ready for the Event
We want REVEL Moments events to be fun, intimate, and empathetic — leaving you with moments of elevation, pride, and insight about your host and their path in life. To do this we want you to be part of the event so get ready:
To be on screen (as the audience will be visible)!
Submit a question in advance of the event as you may get a chance to join us on stage and ask the question live.
If so moved (+ over 21 years old!) grab an adult beverage and sit back to enjoy the athlete joining you in the room.
A typical REVEL Moments event lasts between 45 - 60 minutes. For more details check out our FAQs.
How many other people will be there?
REVEL Moments events are meant to feel intimate and have been crafted so you feel like you are in a small setting, truly learning who your host is. The number of tickets issued for each event will vary and always be limited.
How can I provide input into what stories I would like to learn about?
Join the conversation! Every time you purchase a ticket, you will be asked to respond to a 1-minute survey about what you would like your host and moderator to talk about. We review every response and incorporate them into the planned content for that event.
Testimonials
It was very personal and neat to see the human side of Cade.

— Richard B.

I enjoyed the intimacy and the active participation from the audience!

— Jamillah J.

So cool! Intimate experience that could not be replicated!

— Meredith C.

My son Owen actually got to talk with Cade!

— Erin M.
About

It is our mission to create a human connection between athletes and fans.

About REVEL

FAQs

REVEL Moments events are fun, intimate, and more importantly, engaging.

Read FAQs

Help

Have questions? Need to troubleshoot? Contact us here for support.

Get Help